Accelerate your CMMC compliance
and ace your certification.
Expert guidance for meeting the new, federal
Cybersecurity Maturity Model Certification (CMMC) requirements.
Meet the CMMC
Interim Requirements
Get the help you need towards NIST 800-171 and submitting your self-assessment to SPRS.
Position Your Company
for Future DoD Contracts
Be certified and ready for DoD contracts when the interim term ends.
Expert Guidance from
a CMMC Consultant
Succeed quickly with the assistance of a certified CMMC Consultant (RP) and our CMMC pre-audit process.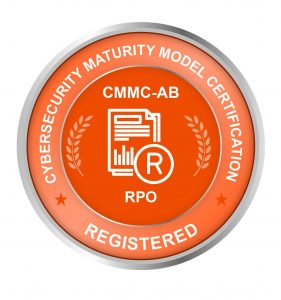 Are you prepared to meet over 100 security controls required for CMMC compliance?
Perhaps you don't know what will be needed, or where to start.

The federal guidance for meeting the new requirements is sometimes vague, and the path to meeting them is new territory.

This mandate has many IT managers feeling anxious and unsure about how to satisfy CMMC compliance requirements on top of everything else they need to do.

Focus your time, energy, and capitol on what needs to get done towards CMMC with our CMMC pre-audit.
Own the Cybersecurity Maturity Model Certification (CMMC) process:

Grade Your Readiness
Download our Defense Contractor's Guide to CMMC to grade your CMMC readiness.
Transitioning from NIST 800-171 through the SPRS system and into CMMC is a complicated process. The first step is to identify where you stand and make your plan. Use our free Guide to CMMC to start building your plan.

Build Your Plan
Schedule a meeting to speak with a certified CMMC consultant (RP).
As part of our process, we believe that assessment must proceed prescription. As such, we perform a detailed CMMC pre-audit of your organization to help you build a sustainable plan and stay on schedule and on budget.

Ace Your Certification
Don't let the red tape of CMMC hold you back. Receive the professional guidance, cyber-first support, and optional managed IT services you need to support your mission quickly and efficiently. Download our free Defense Contractor's Guide to CMMC today and obtain your CMMC compliance.
You Don't Need to Go It Alone.
Let us be your CMMC Compliance Navigator.
Don't know where to start? Federal guidance is vague, tricky, and ever evolving.

Download our complimentary Defense Contractor's Guide to CMMC to learn where you need to focus.

With our CMMC pre-audit, you can be prepared and feel confident you will meet the new requirements.

Don't risk figuring this out on your own. Leverage our CMMC consultant to save you time and money.

Exceed has the experience and patience to stay by your side until the certification is done.

We are here to support your mission and help you meet CMMC compliance on schedule.
Not ready to see your readiness score?
Download the "CMMC Compliance Checklist":